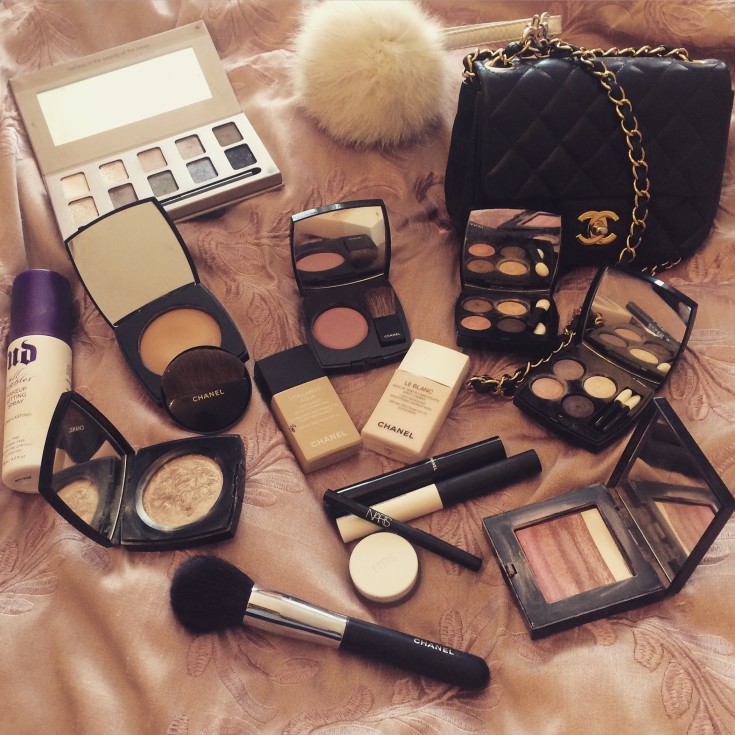 Last week we chatted about drugstore makeup so I figured let's switch it up this week. Ballin' on a budget is fun, but we all want to feel like a princess every now and again! Makeup splurges always cheer me up so over the years I have amassed quite a selection. This week I am going to give you a quick run down of my favorite Luxe products from the picture above. I have to give you fair warning, all of these are well loved as you can tell by the picture 🙂 .
First off – Primer! Omgosh, this is a godsent product –
Chanel Le Blanc Light Revealing Base.
Guaranteed glowing skin. Sometimes, I just dab this all over my face with a bit of lip gloss and run out the door.
My favorite favorite favorite foundation. Did I mention it is my favorite?
Powder Bronzer, for that natural healthy glow.
Eyeshadow Primer.
Nars Smudgeproof Eyeshadow Base. 
This totally keeps shadow from migrating all the way to Mexico on the oil slicks I call eyelids 🙂 . I have tried a gazillion eyeshadow primers and this is the only one that worked for me!
Eyeshadow Palettes.
Chanel Les 4 Ombres in 202 Tissé Camélia and 204 Tissé Vendôme
Stila Nouveau Eye Shadow Palette. The one pictured seems to be discontinued. This should be the closest to the new version!
Mascara.
Chanel Le Volume Mascara.  Luscious supermodel lashes!
Eyeliner.
Nars Larger Than Life Longwear Eyeliner.
Blush.
Chanel Joues Contraste. In Rose Pétale. The perfect pinky flushed look.
Highlighter.
Chanel Dentelle Precieuse Illuminating Highlighter. Only available during the holidays.
Bobbi Brown Shimmer Brick. In Rose.
And last but not least, a setting spray. My favorite being Urban Decay All – Nighter.  It always helps my makeup sit comfortably on my skin throughout the entire day.
I hope you enjoyed a peek at my collection! Please share with me your fave products to #RadiateDaily!
XoXo,
Suruchi