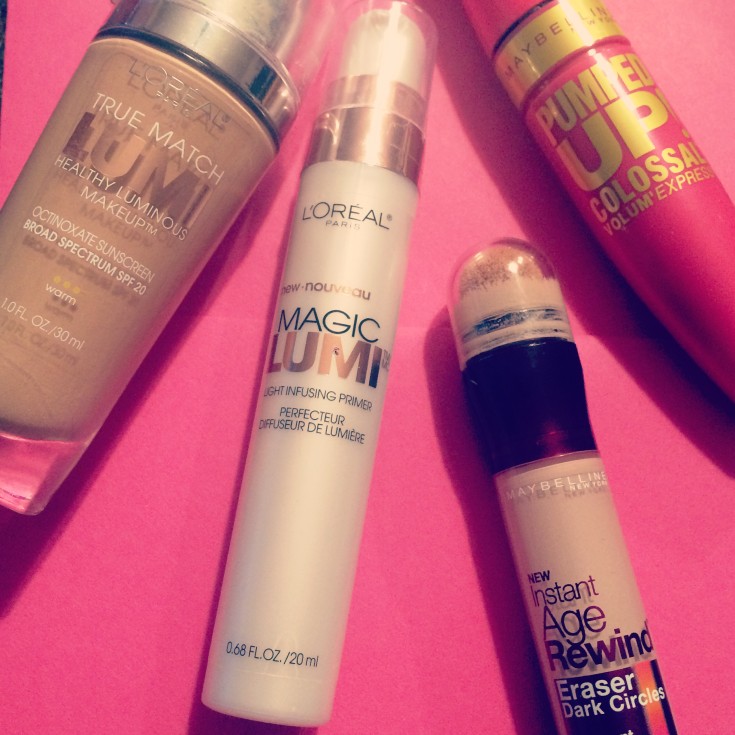 Budget. The single word in the English language that gives me more anxiety than waiting for a guy to text me after a seemingly awesome first date. While I wish I were independently wealthy, that just is not the case. Well, yet 😉 . I recently set off on a mission to recreate my favorite makeup look using all drugstore products. I was incredibly skeptical. I have been a diehard Sephora junkie for years. I swore by my Chanel foundation. When people ask you what you would take if you were stranded on a deserted island (like that would ever happen) it was my item. I love that foundation, but at $47 a bottle it hurts my Amex no matter how many SkyMiles I accrue. So off I went to Target in search of something a little more wallet friendly.
Target, to me, is heaven. You walk in, you grab a coffee at Starbucks, peruse the $1 racks, and then get down to business. This trip was no different. I grabbed one of their new "Flat Whites" and hit the beauty section. Immediately I was amidst what I refer to as the "big three". Cover Girl, Maybelline, and L'oreal. Reputable brands that all our favorite celebs are poster children for. What I adore about the Chanel foundation is that it is luminous, water-based, and just a bit more coverage than a tinted moisturizer. After a thorough review of all the shelves, I settled on L'oreal True Match Lumi for my foundation. It is super hydrating and thereby gives you that dewy look that is so naturally elegant.
Next, I browsed primers. A lot of people have mixed feelings about primers. I became a convert a few years ago when I found that it was helping my foundation sit more evenly on my skin and it also protects the skin from the pore clogging that makeup can do. I selected the L'oreal Lumi primer simply because of its innovative light reflecting technology. I love the look of radiant glowing skin and it seemed to hit my criterion for luminosity.
With the two big decisions already made, I ventured over to the Maybelline section. I had heard great things about the Age Rewind concealer and decided it would be the one to try. I suffer from dark circles under my eyes, so concealer is important to me especially since I prefer lighter coverage foundations. This one touts that it is a dark circle eraser. I was sold.
My final step was mascara. I long for voluminous lashes. While in the Maybelline section I saw this fun chunky pink tube that instantly grabbed my attention. It was Pumped Up Colossal lashes. The name was enough to intrigue me. The brush on this mascara is awesome. It gives you thick volumized lashes in just two coats and it does not break the bank. I always laugh at myself spending over $30 usually per tube of mascara. This product definitely delivers!
Well, there you have it ladies! My new drugstore favorites! Believe it or not, all of that cost me less than a single Chanel foundation! How do you #RadiateDaily on a budget?
XoXo,
Suruchi