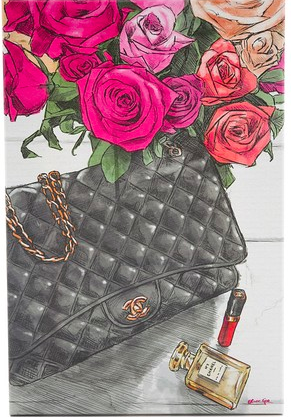 There you are at a lovely dinner party. You spent an hour perfecting your makeup and your face looks gorgeous.  As the night progresses, the inevitable happens, your "face" starts sliding off your face. Never fear! Here is what I keep in my evening bag to keep my face fresh throughout the entire evening!
1.) Urban Decay Chill Spray – This stuff is awesome!! It can be used to refresh your face and set your makeup. The small size bottle is perfect for your purse. Now when someone tells you to "chill" you can spritz this and thank them for the reminder 😉 .
2.) Rollerball perfume – I loveeee rollerballs. They are purse friendly and a great way to test out a fragrance without the hefty investment of an entire bottle. My current companion is Prada Candy Florale. It is a light florally scent that layers really well with other flowery perfumes. I love to mix different scents together to make something new and unique. I layer this one with Roses de Chloe.
3.) Pinkey Nude Lipstick. I find that these work awesome with almost every outfit and can just live in your purse for the moments when your lips need a quick retouch. They also can double as a color for your cheeks for that perfectly flushed look. This color by Colour Pop cosmetics is my absolute favorite these days.
4.) This next product is my cheat sheet for  a night of flawless foundation without carrying my entire bottle. It is the Garnier Skin Renew Anti – Dark Circle Eye Roller . I use it to touch up all the spots where my foundation has migrated and the color is so adaptive. I have seen it work on the fairest skin to my medium olive complexion.
5.) I am an eyeliner junkie so I always have some on hand. I use my small leftover pencils that have done their duty as daily providers in my bag for the quick intensifying touch up I need as my eyes get weary.
6.) Hand cream. Not only is it great for your hands but it also doubles as a good primer for spots on your face that need more makeup and helps that makeup absorb and blend better with the rest of your face. I am currently in seriously lust with Soap and Glory's the Righteous Butter. It is super reasonably priced, fits in your purse, and get this…  the scent is a dead ringer for Miss Dior Cherie.
7.) Blotting papers. These are perfect for getting excess grease off your face in a quick tap. I love this kind by Sephora because of its delicate rose scent.
8.) Mini hair brush! You never know when you need a quick tease and detangle! I am sooooo swooning over this adorable pink Mason Pearson.
I hope this list helps you #RadiateDaily and stay gorgeous on your next evening out! Do let me know how you pack your evening clutches!
XoXo,
Suruchi