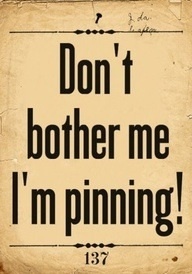 Pinterest! Whoever came up with this idea was pure genius! I know I am not alone when I say it is a go-to guide and idea encyclopedia for just about anything from party planning to style and beauty. Below I have linked some of my favorite Pinterest tricks that help me in my daily life! Enjoy!
1.) It has happened to us all. Our mascara starts to get dry and clumpy over time. Do not fear! It is not garbage! Here is how to thin your mascara.
2.) Running out the door in the morning? No time to accessorize? Throw a scarf on. You will look instantly chic. Here is how to tie your scarf like a sophisticated French lady.
3.) Does it annoy you as much as it does me when you put on your favorite perfume and the scent is gone within a couple hours?  Here is how to make your perfume scent last longer.
4.) Your cashmere sweater starts to pill. Devastating. Guess what? Here is how to remove pills from your favorite sweater.
5.) Love costume jewelry? I know, I do. Do you cry when it starts to tarnish knowing its lifespan is limited? Not anymore! Here is how to safeguard your less than 24karat gold jewels.
6.)Scarf junkie? Hate folding them? Check out this easy hack for hanging them up.
7.) This one is great for city dwellers like myself! Winters can be so harsh and drying and having a humidifier is often a must. Here is a quick and cost and space effective way to turn a regular water bottle into a humidifier.
8.) This one is huge! Have you ever accidentally smashed a makeup compact? Here is how to put that makeup back together just like Humpty Dumpty!
9.) Have you ever scuffed your heels? Here is a fun way to fix them and add a pop of color or sparkle.
10.) Traveling? Don't want your necklaces to get tangled up with each other? Here is how to protect them. 
Well I hope you love these pins as much as I do! Please let me know some of your favorite Pinterest pins to #RadiateDaily!
XoXo,
Suruchi
Image Source: https://www.pinterest.com/pin/56083957833642187/