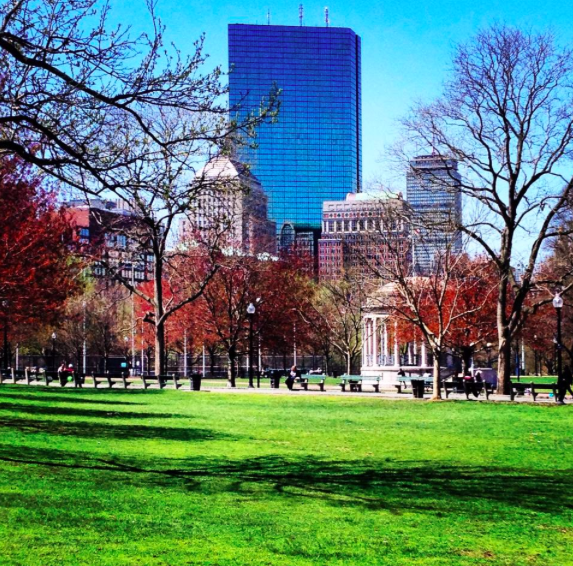 Spring is inching around the corner. One day it's close to 50 degrees, and the next it's back to the 30s paired with a wintery mix As each day passes, I'm feeling spring's presence creeping in slowly but surely. I mean, who doesn't like leaving work when it's still light out…even if you do happen to stay later than you expected?!
To help us get through the long- and at times, painful days of winter, my co-workers and I would list out all of the fun things that we were looking forward to doing this spring. Some of these may sound small, but sometimes in life it's the little things that mean the most- especially when you're trapped indoors for 3 months.
Here's what's on my list of things to look forward to this spring:
1. Walking home in the warm sunshine
Fortunately I live rather close to my office where I can either opt to take the T (the subway for you non-Bostonians) or walk. This winter I had to abandon taking the T all together as it was barely functioning many days, so I hoofed it 2 miles each way to work. I actually got pretty used to walking each day that I'm thinking that I may ditch taking the T to work all together. With that said, I am SO excited about walking to work in the warm weather, rather than having to pile on sweaters, scarfs, and hats to protect myself from the elements all to end be drenched in sweat upon arrival at the office.
2. Enjoying a cocktail outdoors- on a patio, roof deck, or other locale
Enough said. But if you don't like enjoying cocktails outdoors on a warm day, I don't even know you.
3. Gardening
My place has a sweet patio! I'm excited to fix up the space so that lots of grilling and cocktailling can happen with friends. I don't have a green thumb, but my mom is blessed with one, so I have no doubt that my garden will look magazine-like thanks to her.
4. Driving with the sunroof & windows open
There's absolutely nothing like a good, long drive with the sunroof open and great music blaring. One of my favorite movie scenes is from Jerry Maguire where Tom Cruise is cruising (ha! no pun intended ) down the highway rocking out to Tom Petty's "Free Fallin'". I'd be lying if I told you I didn't do my own version of that scene from time to time.
5. Wearing shoes that aren't Bean Boots
I am SO over wearing Bean Boots. Yeah, I know they were all the rage this year with the Hipsters and cool kids, but I'm proud to say that I've been rocking them since I was a kid. I guess I was lucky enough that I was able to score a pair before the masses realized that not only are they super functional, but were on trend this season? I'm ready for some fun espadrilles, flats, sandals, flip flops, and sneaks. Anything but winter boots…and maybe even rain boots at this point.