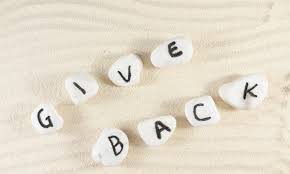 Written by blogging contributor, Audrea Laffely. 
Back in the fall, I wrote about my desire to volunteer more and finding a way to give back and help out my community. I had said I would follow up and report back on what I had learned, so I felt it time to give an update. Since I wrote I have been consistently volunteering once a month and it feels really good. Giving back does wonders for my mood and helps breed the positive emotions that combat everyday stresses. These type of emotions have been linked with better health, longer life, and greater well-being in numerous scientific studies.
Building on the success of my last goal of volunteering once a month, I have decided to start a quarterly group organized volunteer activity. As a Steering Committee Member of Fenway Health I plan a lot of social activities to get new members to join our Young Leaders Council. Rather than plan the typical party events that I feel so comfortable executing, this fiscal year I'm stepping out of my comfort zone to challenge myself to do more. I am developing a quarterly volunteer event to help get others in the community get involved with giving back on a seasonal basis.
My goal with this new program is very personal. Not only do I want to create something meaningful within the community, but I also want to teach others the importance and benefits of giving back. Volunteer work builds self-confidence and lifts up the spirits, and I want to guide others to have that same experience. Doing volunteer work that you find meaningful and interesting can be a relaxing, energizing escape from your day-to-day routine of work, school, or family commitments. It also provides a renewed creativity, motivation, and vision that can carry over into your personal and professional life.
In writing this blog post, I have the same motivation to push you all and get you on the giving back bandwagon. Getting started is easy, do some research to find an organization that is a match to your personality and interests. Before starting, make sure you are comfortable with the organization, know what is expected, and understand the time commitment. Consider starting small so that you don't over commit yourself at first, and give yourself some flexibility to change your focus if needed. Test the waters before you jump in, heart first. Good luck and I hope you find it as fulfilling as I have.
#radiatedaily
Image source: dermal institute