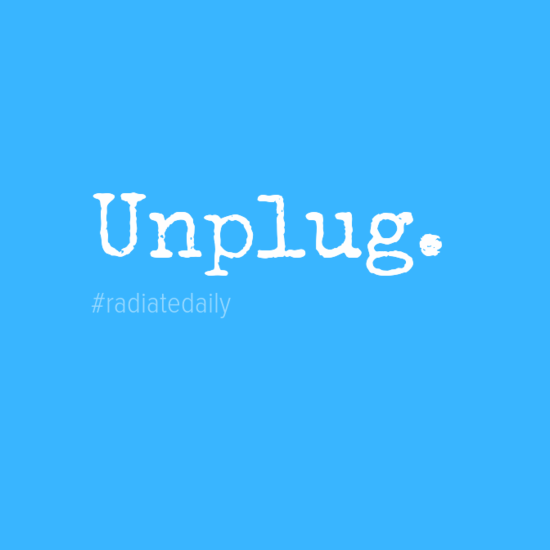 National Day of Unplugging  recently took place on March 6, 2015, but I had been thinking about this concept of "unplugging" over the last few months. Let's break it down. I'm a digital marketer by day and night. My day job is a digital agency where I spend the majority of my day working on the computer, checking my phone, etc. Outside of work I'm usually still answering emails, seeing if there's work that needs to be looked at, and focusing on my other digital obligations. As you may already know I have a few blogs/websites – about 4 on average, and that's not including the 3 blogs I write for outside of my own. And I am a bit of a digital and tech geek so I am constantly on Instagram, tumblr, Twitter, so on and so forth. I also have an affinity for Apple products so of course I have an iPad and Apple TV (two, because why would 1 be enough). If it's not the computer, phone and Apple TV at once, it's one or the other. There's constantly at least one screen I'm checking out each hour of everyday. Sounds crazy, but that's the world we (or at least I live in).
As much as I love it, and I wouldn't change my job and side projects, I need to take a break too. I need to "unplug" and step…away…from…the…screen. Easier said than done. What if I missed a text? An instagram comment? FOMO. Seriously.
A change needs to happen.
Small Steps: Although I don't practice it everyday, I'm trying to find a few moments a week when I just say no to my devices.  For example, over the last few years I adopted the Kindle App and having my books with me on any device. It was easier and cheaper. As of late, I've been doing half and half. I like being able to access my books anywhere, including my phone when I'm commuting. However, I also desire the ability to hold a book again. The ability to not look at a screen and just a book or magazine. So when I'm home, or on the beach this summer, instead of grabbing my iPad, I'll grab an actual book. It'll allow me the chance to disconnect without feeling too far removed. A mini break.
Taking in the moment: When I'm with co-workers, friends, or family – in person – outside the office – I truly try to be there, in that moment. I rarely have my phone out at a dinner table. I try to keep my phone in my purse, rather than in my line of sight. I'm less inclined to pick it up and look at it while I'm chatting and catching up with a girlfriend. Plus, I know that when a friend is constantly checking hers/his in the middle of a conversation, I definitely feel less significant. My goal is to be in the moment with the person I'm with – and not stuck in others people's moments on a screen. The same goes for taking pictures throughout a whole evening. I'm guilty of snapping many photos, but I try to do only a few these days, so I can put my phone/camera away and enjoy the conversation vs just looking at it afterward.
Get outside: Living in a city covered in piles of snow this winter has made it a little harder to be out and about like I normally would like to be. Even if it's just going to the gym, it gets me out and less focused on my computer and phone. I love going for walks around the city. Even without someone by my side because sometimes you just want a minute to decompress by yourself. A goal for this spring and summer is to explore more – and I don't mean with Google.
I will always be a digital geek, but I look forward to unplugging more often. My first step has been taking one day a week (usually Saturday) where I try not to open up my computer. Not always feasible, but it's a start.
Next step, planning a vacation where I don't take my computer with me. Sounds crazy right? It just might happen!
How do you "unplug" and #radiatedaily ?
A lot of people have been writing about this lately, so here are some more in case you want more inspiration: