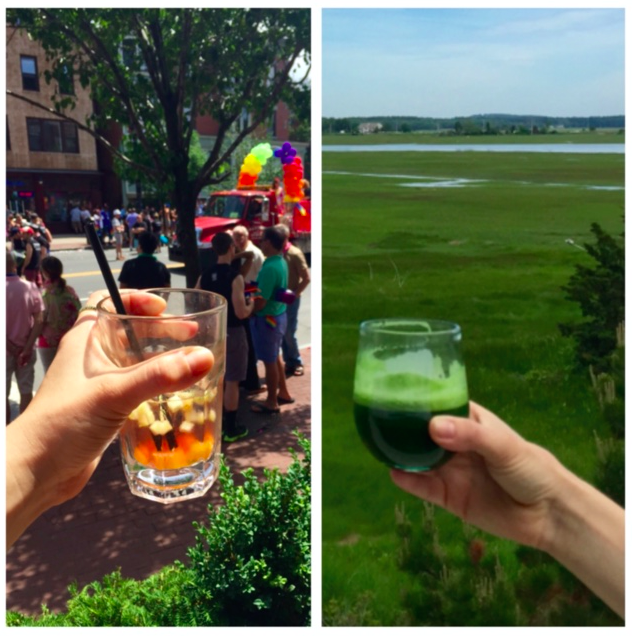 This post was written by contributing blogger, Audrea.
It's finally here! The warmth, the BBQs, the late nights, the early mornings, the endless events and jam packed weekends.   I LOVE summer. I LOVE the feeling of the sand in my toes, sun-kissed skin and smelling the sweet, summer air. I love summer so much that I want to do everything and do not want to miss a thing. This can be so draining and on more than one Monday morning in past I have found myself completely exhausted from the weekend.
This summer I am going to focus on finding balance and practicing moderation. The photo for this post is from this past weekend and is a great example of my practice in reality. On Saturday (left hand side), I took this picture of me drinking sangria at my third stop of the morning. I later attended two more parties and got home at midnight after a day of truly running around like crazy. On Sunday (right hand side), I work up slowly, ran on the beach, made a green juice, attend a polo game and had a great healthy day. It's now 9:30 on Sunday night and I'm in bed ready for the week to begin, not dreading the Monday morning start.
To help with finding balance, I'm keeping a summer journal to track my days and moods and find the patterns that lead to certain unbalanced behaviors. If you already journal, then you know that this is a great self-exploration tool. And if you don't journal, then I highly suggest that you start. It really clears the mind and helps put things into perspective. My summer journal is my new, favorite levelling tool..
By practicing balance and moderation, my goal this summer is to feed the excited child within in while satisfy the Monday morning adult that gets angry when I over indulge. Balance is allowing me to enjoy life more by not bouncing from one extreme to the next. If I push hard or run around one day, then the next day I ease up even just for part of the day. If I find that I feel like I'm teetering too heavy to once side of the seesaw, then I'm working to recognize that and make adjustments to get back to even.
#radiatedaily