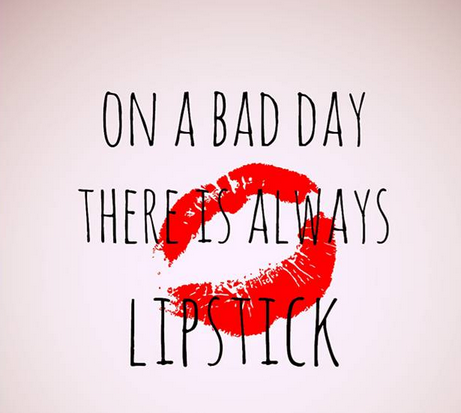 As a toddler I was notorious for getting into my mother's makeup drawer. My product of choice was hot pink lipstick. There I was, destined to be a girly girl at the ripe age of 2. If you are anything like me, you are a sucker for a lip balm or lip gloss. Your lips feel hydrated and protected. Not to mention the delectable taste. A new lip gloss can almost always put a happy spin on any bad day. But what about lipstick? While toddler me was totally into lipstick grown up me has always been hesitant. I fear the color will be too bold and I constantly worry about looking a little too much like a "lady of the evening." Yet, every time I open a fashion magazine and see a celebrity with stunning lipstick, I can't help but say, "BUT I WANT IT."
Fast forward from my toddler years to the late 90s/early 00s. J. Lo is all the rage. I dabbled in my first lipstick and bought that creamy nude color she was oh so popularly known for. It was Estee Lauder. I had arrived. I was ecstatic. Well, at least till my mom told me I looked like I had hypothermia. She felt the lip color was far too faint for my olive complexion. So off we both went to Sephora to find a shade better suited for yours truly. We ventured over to the Benefit section. They always seemed to have teenager friendly colors in my mom's opinion. We picked up a pinky peach tone named "Candy Kiss." It became my signature color for years.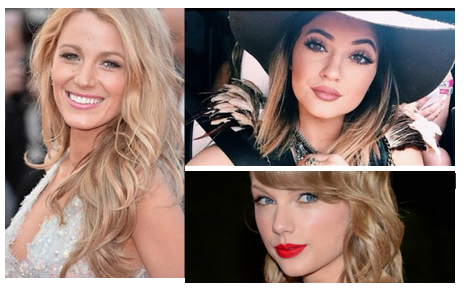 Pinky nude colored lipsticks are my favorites to this day as I am obsessed with that fresh faced Blake Lively look. It is pure perfection. However, I recently ventured out of my comfort zone and tried some deeper tones. My go-to favorite is a semi – sheer hot pink by Chanel (see below), appropriately named "Romance." But. My brand new obsession is Kylie Jenner's perfect mauve-ish, nude-ish, berry-ish lip color. I have searched far and wide experimenting across brands to find the closest match and I think I have it – Liar by Urban Decay (see below). It gives you an instant lip lift! Finally, the look I absolutely love, but have yet to try is Taylor Swift's signature red lips. So stunning. I give props to every girl that rocks this look because it exudes the confidence that makes you #RadiateDaily.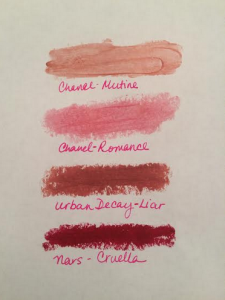 Lipstick colors from top to bottom:
Now all of this lipstick talk is so fun! But, as we discussed in my previous post about skin, nothing looks good without a good canvas. That is precisely why it is so important to exfoliate your lips twice a week. There are super simple ways to do this with just brown sugar and honey. Currently, I am experimenting with a Mary Kay lip Mask. It really gets rid of product build up especially if you are a chapstick junkie like myself! I follow up my exfoliation with my favorite lip balm. It is adorably named, Balm Dotcom and then lipstick! Please share your comments and favorites below!
How do you #radiatedaily?
XoXo,
Suruchi
Image Sources: Blake Lively –http://bit.ly/1yJrIDO; Kylie Jenner – http://bit.ly/1ATKAwv; Taylor Swift – http://huff.to/1yDqtWm