Written by contributing blogger, Sonia Sahota
Can you believe it? Summer is in full swing and half of 2016 has already cruised by. Have you thought about the resolutions you made back in January? Personally, I feel great about my resolution. My New Year resolution was to cut back on the amount of sweets I consume. I was not cutting out the sugar completely…because let's be honest – I have a huge sweet tooth! But curbing it.
Desserts are my weakness whether it's double chocolate chip cookies, a slice of cinnamon apple crumb cake, salted caramel brownies or a fruit tart. However, I did eliminate the amount of sweets I have been consuming each week, taking it day by day. Also, I've been checking to see what ingredients are in the sweets I choose to eat. When I bake, I tend to switch out milk for almond or coconut milk. I substitute sugar for natural honey. The little things are what count. As long as I know what and how much I am consuming, I feel a lot better about it.
To keep my New Year resolution going, I am always looking up recipes, altering my mother's recipe to substitute ingredients, and learning from my friends about their healthy snacks. My sister is gluten-free so lately I have been looking up GF treats.
Here are two of my current favorite desserts that take no more than 5-10 minutes to create:
PB-Apple Slices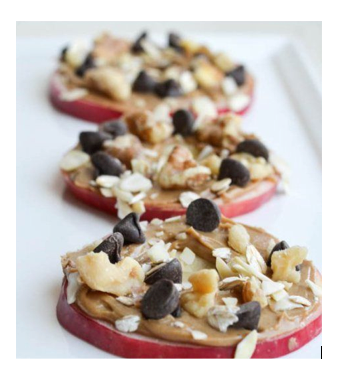 These bad boys are quick and easy to create. Choose your favorite type of apple, granny smith in my case. Then cut the apple into thin slices. Lather a thin layer (or thick layer) of gluten free peanut butter. Then add anything you have in your kitchen whether it is chocolate chips, coconut chips, nuts, or gluten free marshmallows. And, there you have it! A gluten-free healthy dessert that only takes five minutes of prep time.
Yogerberry bark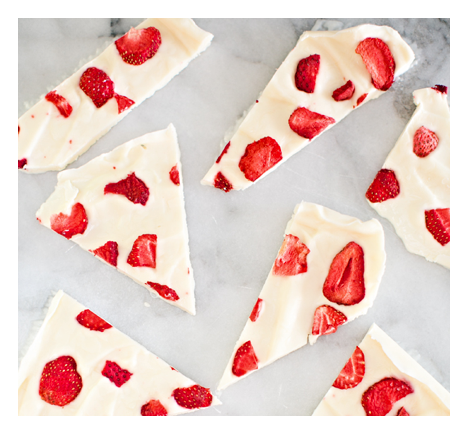 If you are a fruit lover, these are delicious! Now you can make these with any fruit, blueberries, strawberries, or even nuts. The choices are endless. First, take a tray and place a baking sheet so the bark does not stick to the tray. Fill the tray with any kind of yogurt 3/8 of an inch so it can break easily afterwards. Then add any fruit or nuts. Freeze for a few hours (I typically wait 4 hours). After cool time, break into pieces and serve!
Remember taking your resolutions week by week truly helps the longevity of your results! Always make room for cheat days, whether it is a little something everyday or a larger something one night out of the week Find out what works best for you and your diet.  My self control isn't as strong so I tend to go for something small and sweet each day after dinner.
We would love to hear about your New Years resolutions whether it is food-related, exercise, to spend more time with loved ones, appreciation, giving back, etc. Let us know how your journey is coming along! Whether it is a smooth journey, rocky or a mix of the two – we would love to hear your motivational stories.
#RadiateDaily
Image source: double the batch, hello wonderful, mental floss