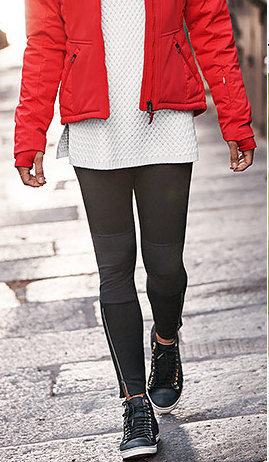 Let's be real. Working out is way more fun when you have on an outfit you feel good in. There is something about tossing on a new pair of leggings that makes you do the extra 15 minutes of cardio…or is that just me?
 So what do I have in my closet that keeps me jazzed to exercise?
1. Functional and fashionable sneakers – I've been living off my black, white, and hot pink pumas for a while. They're an easy gym shoe for cardio and strength workouts.
2. Leggings that look good and feel good – I'm not a shorts person, but I do love my leggings. I have different lengths for different seasons and exercise routines. I also have thinner and thicker ones. In the winter I am less inclined to go outside in my summer capri length leggings, but cozy warm ankle length ones are perfect. I do own a bunch of black ones, but they are all different. Some have wild prints, others have unique textures, and of course pockets. Lastly, I make sure they fit well. If you feel fat in them. Don't buy them. Seriously.
3. A fitted baseball cap – I have a habit of working out in baseball caps, because it keeps me more focused on my workout and less on the people around me in the gym.
4. Pullovers – They help transition your outfit from gym to brunch. If I have a soft cashmere or wool pullover or a ninja sweat wicking material – whatever works – I feel cozy and transitioned to the next part of my day.
All in all, the outfits need to be multi-functional. I wear my leggings to the gym, around the house, and even out and out running errands – and of course travel. You want clothes you feel good in and would be ok running into that guy in the coffee shop while wearing.
#radiatedaily
Image source: Athleta